Save Time & Money with our
Customer Care Program
Physical address
6730 Amsterdam Way | Wilmington, NC 28405
Phone (910) 392-6400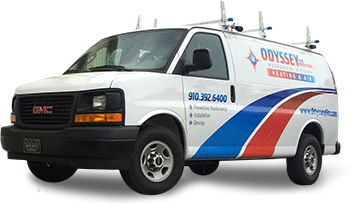 Through our Odyssey Mechanical Customer Care Program, we provide exceptional semi-annual preventive maintenance services. We can help save you on energy expenses, reduce potential costly repairs down the road and extend the life of your heat and air conditioning.
Advantages of enrolling in our Customer Care Program
When you join our Customer Care Program, we'll ensure that your equipment is inspected by one of our skilled technicians twice a year. Our team offers the routine services your HVAC needs to keep providing quality heating and air conditioning through all of North Carolina seasons. Here are the exclusive advantages of becoming a member:
Maintain equipment and help protect your manufacturer's limited warranty, when applicable
Priority scheduling for diagnostic service and repair
Get quick turnaround services with our discounted diagnostic fees
Preserve your system's energy efficiency and safety
Avoid untimely breakdowns
Improve air quality and comfort level of your home
Receive a 10% discount on all labor, repairs, and upgrades
Remember, most manufacturer warranties require professionally trained service technicians to complete specific seasonal maintenance and repairs. Any "do-it-yourself" repairs to HVAC equipment may void your manufacturer's warranty.
Set your home up for HVAC success. Take Advantage of our Customer Care Program. Let's start the process:
As an exclusive member of our Customer Care Program you will receive one Fall and one Spring visit each year
We invite you to join our program and look forward to providing you with the following services.
Fall Customer Care
In the fall, our team of skilled technicians will:
Inspect the ignition burner assembly
Examine the heat exchanger for cracks
Confirm exhaust piping is properly secured
Check for any leaks in gas piping, if applicable
Check supply and manifold gas pressure
Clear drain lines and pans
Check electrical connections
Check blower operation and adjust fan speed for peak system performance
Inspect heat pump operation
Examine defrost operation
Confirm proper operation of auxiliary heat
Examine duct work
Clean or replace filters provided by customer
Spring Customer Care
In the spring, our excellent technicians will:
Rinse condenser coils
Clean drain lines for proper flow and clear clogs
Clean drain pans of standing water to avoid overflows
Inspect ductwork
Test humidity levels
Check refrigerant for leaks and proper charge
Test thermostats and controls for proper temperature and timer functions
Check electrical system and connections
Check fan and blower operation and adjust as needed
Inspect air handler cabinet for leaks and secure doors
Clear debris and foreign objects from outside unit
Clean or replace filters provided by customers
We look forward to working with you! If you have questions or need further assistance, contact us at 910-801-0888.
Our expert technicians provide 24/7 rapid response on both commercial and residential buildings. If you require emergency HVAC service call, 910-362-6400.