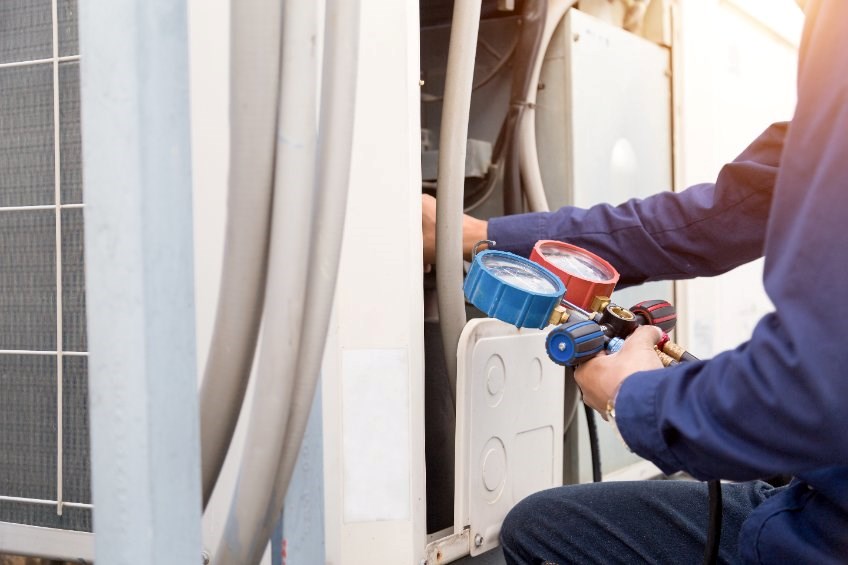 Why Consider a Preventative Maintenance Program for Your HVAC?
There's nothing worse than an untimely HVAC breakdown during peak Wilmington area summer heat.
Breakdowns are expensive–far more costly than any routine maintenance or minor preventative repairs. And it often seems like air conditioning systems choose the absolute WORST time to fail.
Don't wait for your HVAC to give out! You'll save time and money by investing in semi-annual preventative maintenance of your HVAC. Yet, the frustration of an HVAC failure is only one of the many reasons homeowners in the Cape Fear region should consider a preventative maintenance program.

10 BENEFITS OF PREVENTATIVE HVAC MAINTENANCE
Fortunately, some HVAC companies like Odyssey Mechanical offer preventative maintenance programs to new and existing customers. Our customers highlighted the following as their favorite benefits of our preventative Customer Care Program:

1) Avoid costly breakdowns.
HVAC failure often means it's time for a brand new air conditioner. While a new AC for your home can fall between $5,000 and $12,000 (or more!), minor repairs caught early will cost much less. That's a BIG difference! But, if you service your HVAC on a semi-regular basis, your chances of system failure are MUCH lower.

2) Optimize energy efficiency.
As your AC ages, it will inevitably become less energy-efficient–that is, without the proper care and attention. It takes more power for a damaged HVAC to release air at the perfect temperature and rate, ultimately pushing your energy bill through the roof.

3) Protect the manufacturer's limited warranty.
Nearly every HVAC manufacturer requires you to provide proof of yearly maintenance in order to continue keeping any warranty benefits.

4) Extend the HVAC system's life.
As with anything else–from your vehicle to your own personal health–the more regular attention you give to your air conditioning system, the healthier it will be. And a long-lasting HVAC means your overall air costs will decrease.

5) Save LOTS of money.
Between the low repair costs, the reduced energy bills, the maintained manufacturer's warranty, and the extended system lifespan, you're looking at a BUNCH of savings! Most customers identified this as their #1 preventative maintenance advantage.

6) Improve air quality.
Recent EPA studies have consistently ranked indoor air pollution among the top five environmental risks to public health. Yet, HVAC maintenance is one of those things that is so often brushed to the side and neglected as we all go about our busy lives. Preventive maintenance can help you make sure the air pumping through your AC system is as clean and well-filtered as possible, making it healthier for you and your family to breathe.

7) Maximize home safety.
I'm sure you've heard a few horror stories–of frozen or burst pipes, water damage, or even carbon monoxide leaks. When left unchecked, your HVAC system could have a range of adverse effects on your family's safety and health, not to mention the potential damage to your home.

8) Ensure optimal comfortability.
One of the most satisfying feelings in the world is coming home to breathe in the comforting scent of "home." Unfortunately, an unmonitored HVAC can distort that wonderful, fresh air… and also prevent your system from distributing air at an even, steady pace. When many of us are working from our homes, air quality is becoming more and more of a priority.

9) Protect the environment.
A well-maintained air conditioning system uses significantly less power–which is not only good news for your energy bill, but it also reduces your impact on the environment.

10) Rest easy knowing your HVAC is good-to-go.
No more worrying about your air conditioning costs, safety, or possibility of a breakdown. When you sign up for semi-annual HVAC check-ups, you can be confident that you've done everything you can to equip your home for success!
ABOUT OUR PREVENTATIVE CUSTOMER CARE PROGRAM
Through the Odyssey Mechanical Customer Care Program, our customers get exceptional semi-annual preventive maintenance. Our skilled technicians work on all HVAC brands and will inspect your system twice a year, ensuring quality heating and air conditioning through all the North Carolina seasons.
Besides all the perks listed above, our Customer Care Program offers the following advantages:
Priority scheduling for diagnostic service & repair
Quick turnaround services with our discounted diagnostic fees
A 10% discount on all labor, repairs, & upgrades
24-hour rapid response for emergencies

Ready to sign up? Learn more about our Customer Care Program now!